Our reference, the columned hall/auditorium of the Academy of Fine Arts in Vienna, exudes an atmosphere of historical splendour. The unique ceremonial hall is the perfect venue for events and lectures. While undergoing general renovation, the Academy was keen to find a timeless and functional row chair. Wiesner-Hager is delighted that the nooi model was declared the winner after an intensive selection process.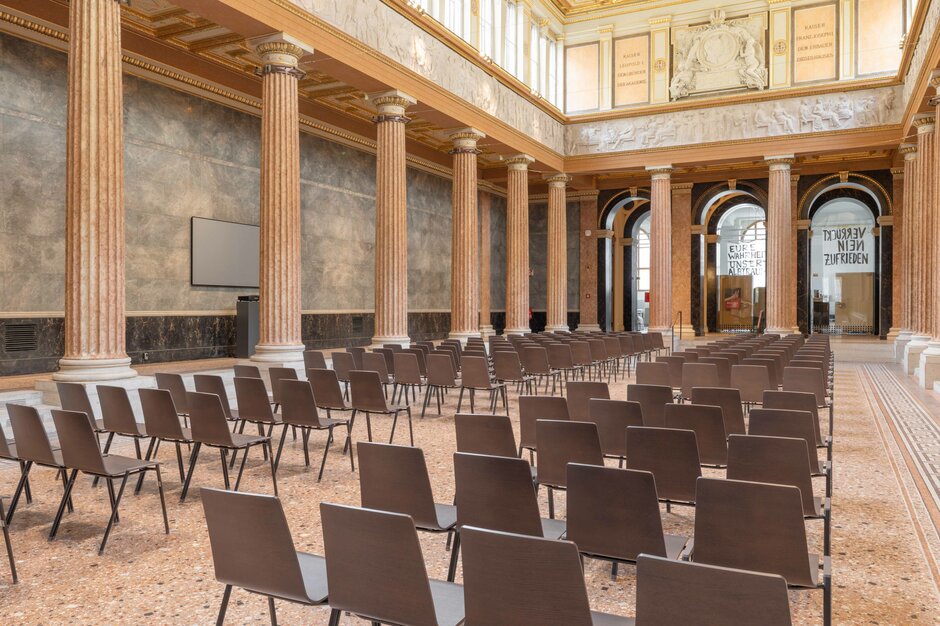 Although the Academy of Fine Arts was originally founded in 1688, the construction of the present building began in 1871 according to plans by the master builder and architect Theophil Hansen. Today, the Academy ranks as one of the most renowned art universities worldwide. Around 1,500 students can choose from a spectrum of courses ranging from painting and photography to conceptual art. In addition, the picture gallery of the Academy is home to an important collection of artistic heritage.
Specialist lectures and events therefore need a suitable setting. The columned hall/ auditorium offers an atmospheric setting for receiving a large number of visitors. Thanks to its impressive interlinking technology that makes it easy to assemble and disassemble, the Wiesner-Hager row chair nooi proved to be an agreeable partner. The staining of the seat shells was colour-coordinated to complement the iridescent marble walls.
Impressions