p.f.s. Klapptisch: Playfully livening up large rooms.
The name of p.f.s. folding table says it all: the "progressive folding system" does not require an additional strut and provides more stability and legroom. Different frame types can be folded with the same swivel mechanism. The folding function is extremely simple, intuitive and safe. An integrated stacking protection ensures that the table top is not damaged during stacking.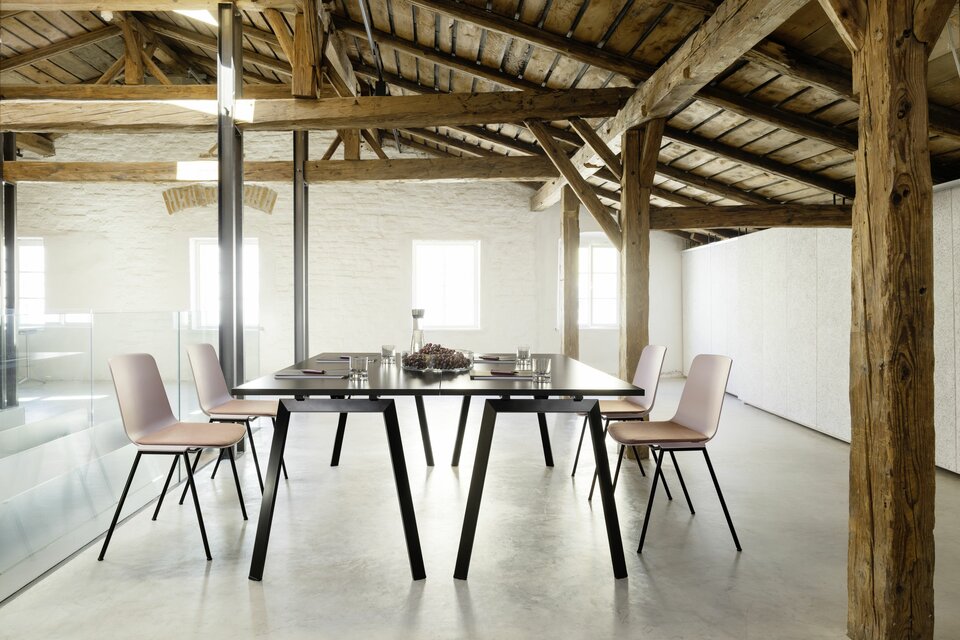 The table system surprises with a large variety of formats, designs and optional additions. There are three different frame types to choose: Premium-quality, slanted, square tubular steel; minimalist, curved, round tubular steel, and a stylish, sleek T-foot frame.
Lightweight boards are available as an option, making handling considerably easier, especially in event centres. In addition to a weight saving of approximately 45 % compared to conventional chipboards, a special lightweight ecoboard also scores in terms of environmental friendliness: the corrugated construction made of plant fibre fleece – such as hemp or flax – not only cuts material consumption by two thirds, but also reduces the use of adhesives by 80 % – for better material efficiency.
In short: The p.f.s. folding table shows its strengths primarily in (large) multi-purpose rooms that undergo a great deal of change. It is therefore ideally suited for the use in congress, seminar or event venues.
Design: Andreas Krob