A flowing composition for art and culture on the hill overlooking Linz.
"Thanks to its curved form, the Anton Bruckner Private University can be recognised as a place of music, dance and drama already from the outside," says Susanne Seyfert who, together with her colleagues Dietmar Moser and Matthias
Seyfert of Architekturbüro 1 (Linz), won the international architectural competition in 2008 to design the Bruckner University.
Anton-Bruckner-University
Seven years later the project has been completed and the university presents its imposing new structure on the Pöstlingberg overlooking Linz. The aim was to create a building which reflects its artistic purpose. The organically shaped building looks like a sculpture in the park and is playfully surrounded by light, vertical slats. These 365 slats do not only supply shade, but also give a feeling of lightness too and a particularly artistic touch to the building. The interior design is characterised by a curved and airy access area awash with light, which runs through the building like a river. Huge window facades offer striking views of Linz city centre, the forest and the Pöstlingberg hill.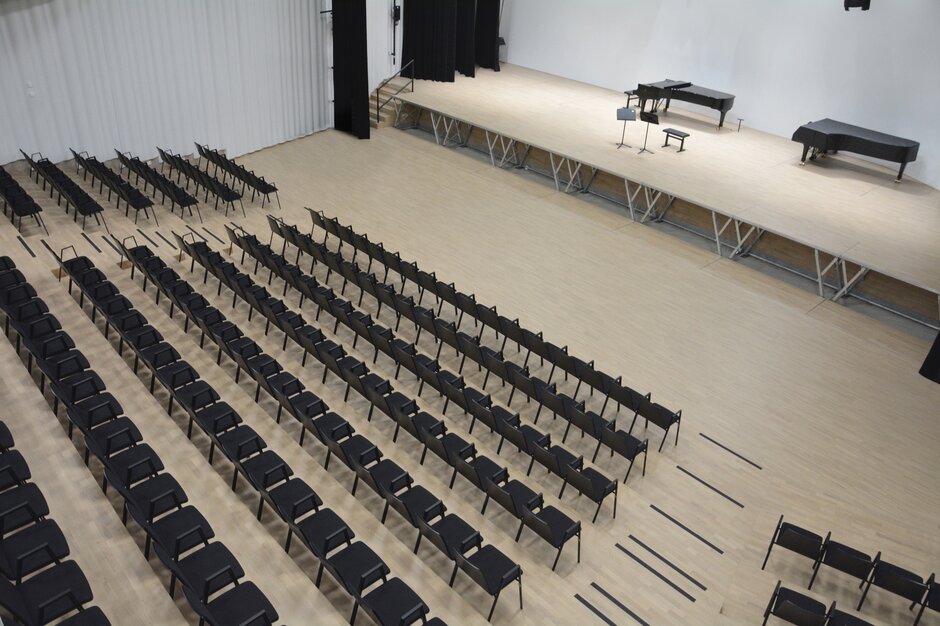 Spread over 8,600 square metres of floor space are four meeting halls, some 100 classrooms, ten lecture halls, 45 offices and an 800 square metre library for 850 students, 220 teaching staff and 40 administrative employees. The furnishings of the meeting and lecture halls include more than 500 nooi frame-linking chairs by Wiesner-Hager. The special feature of these chairs is their innovative frame linking system which does not require any extra linking devices, thus saving valuable time for setup and dismantling. The furnishings of the foyer, which are moved to the university's terrace in the summer months, include weatherresistant macao outdoor tables.
The shapes of the tables are an exact reflection of the free design language of Bruckner University. The tables seem to 'dance' in the foyer like stones in a river.
In the back office more than 100 swivel chairs of the paro product family are in use. For Architekturbüro 1, the greatest priority when selecting furniture was an optimum combination of top quality and user friendliness paired with the desired visual effect. Susanne Seyfert expressed particular enthusiasm for the macao tables with their free-form tabletops, "The shapes of the tables are an exact reflection of the free design language of Bruckner University. The tables seem to 'dance' in the foyer like stones in a river, emphasising the organic, animated interior of the Bruckner University. Many people even ask whether they were specially designed for the university."