Don't worry, be pretty.
Naturalness and beauty. These are the two lasting values Europe's largest online shop for cosmetic products wants to illustrate in its new headquarters. Driven by the idea of visualising the scent of a perfume, the Kyzlink Architects architectural firm designed the new offices of Notino in 2017. After all, it was a perfume which started the success story of Notino in the Czech Republic in 2004.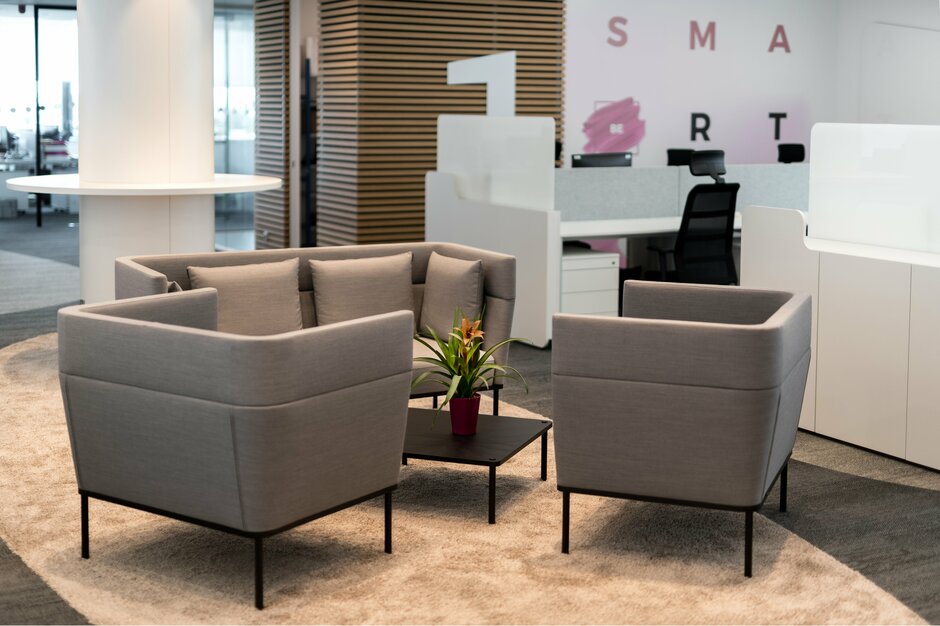 Notino started out as a small online shop for perfume and cosmetics products. 15 years later, Notino has more than 1000 employees in 22 countries and now sells cosmetics products in beauty shops as well. So it is no wonder that more space was required for employees. The Brno business park provided the best opportunity for this purpose: 4000 sqm, distributed over a little more than two floors were set up by the cosmetics company for its new headquarters. In doing so, the company focused not only on the design competence of Kyzlink Architects, but also on its own employees. Since the new headquarters are located only a few minutes away from the previous location, it was clear that the employees were involved in designing their new office. Maybe this was also the recipe for success for the move of the entire company, which was completed within only one weekend without the online shop operations being suspended.
The elegant, clear style put forward in the reception area continues throughout the entire architecture. The dark, almost black wooden floor seems to wind through the premises like a main artery. The open offices are complemented by vitrified meeting booths, telephone boxes and comfortable lounge suites which can be used for meetings or quiet pauses for reflection at any time thanks to their acoustic shielding. The open space workstations were equipped with 220 paro_2 swivel chairs from Wiesner-Hager.
An installation on the wall of the entrance area of the second floor makes way for wood panels reminiscent of a huge palette of eye shadows. This interaction between cosmetics and nature makes the office timeless and touches the very core of our decade. A compromise which will still look modern and stylish even in 15 years' time.
The heart of the new office is the conference room, equipped with yuno stacking tables and nooi conference chairs. The room was kept in a sleek black-and-white style to ensure that it can be reinvented for every occasion. Thanks to the flexibility of the furniture, a conference situation can easily be adapted to create a presentation or event atmosphere.
More Impressions