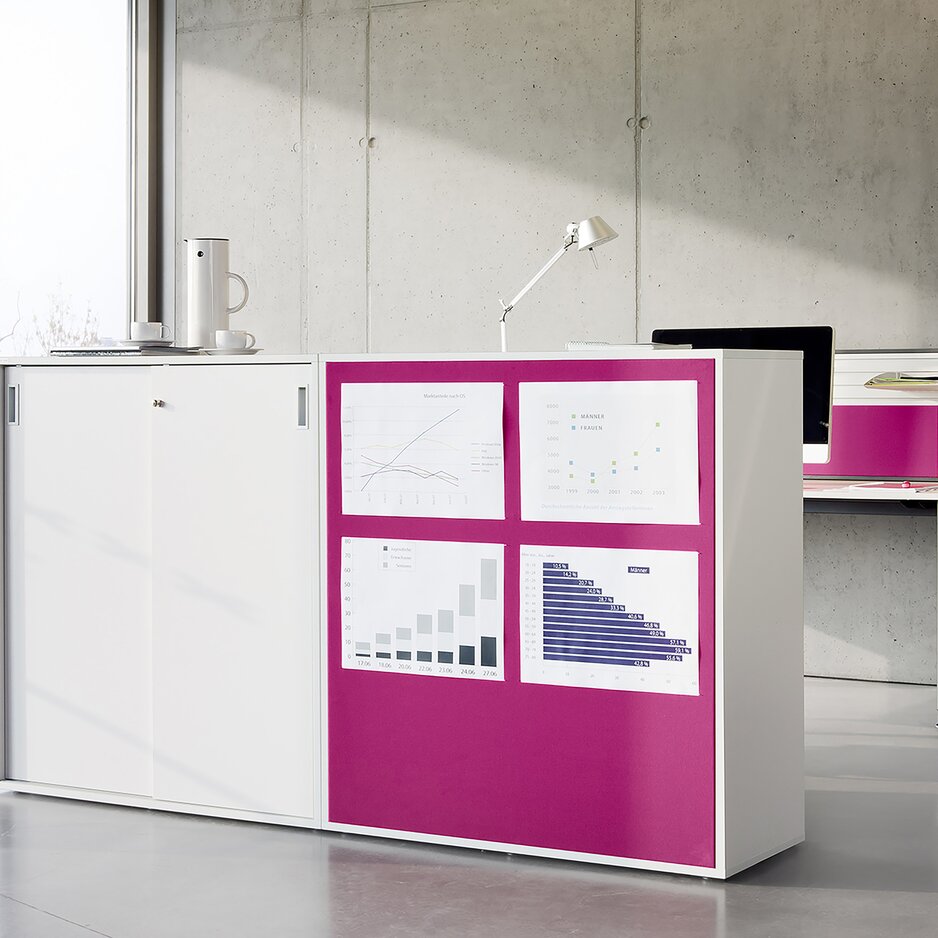 Cabinets and shelves
float_fx cabinets
The float_fx cabinet series offers a wide range of cabinet types geared to different requirements: open-fronted cabinets, cabinets with hinged doors, sliding doors, cross-tambour doors and vertical tambour doors. Based on a standard cabinet depth of 425 mm, the system measurements are adapted to standard frame widths in file heights of two to six. Cabinets with sliding doors and lockers are also available with a depth of 600 mm. Side cabinets with a table height of 740 mm as well as stacking elements complete the series.
large selection of variants
All float_fx cabinets are provided with attractive rear panels, allowing for them to be placed free-standing in the room so that they act at the same time as partitions. On request, rear panels are available covered with fabric so they can be used as pinboards. The wide choice of fabrics provides many options for adding colour accents to the office architecture. In terms of interior fittings, float_fx is extremely flexible. Shelves, drawers and suspension filing systems can be positioned according to individual requirements. Top quality drawers by Hettich® ensure smooth and easy function. The tilt resistance of the cabinets is safeguarded by a general anti-tilt locking mechanism, by special assembly kits for wall mounting and/or by counterweights.
Office, Executive office, Archive
Everything is in your hands.
Variants & technical data
The pull-out cabinet offers storage space with direct access right at the workplace. The interior can be configured flexibly. This clever storage unit can also be used as a room divider, and, at a height of 1100 mm, it creates a stand up meeting point for easy communication and collaborative working.