office4you Büroeinrichtungen GmbH
An homage to Pac-Man.
There can't be anyone who is not familiar with the iconic slot machine game Pac-Man in which the puck-shaped figure has to eat its way through a maze while being pursued by colourful ghosts. The pixelated retro design of the game was taken by the digital consulting company foobar Agency from Munich as a graphic template for its office. In the form of pixels, the Pac-Man style runs through all the rooms, complemented by design elements from Star Wars and Back to the Future. The office concept was realised by office4you Büroeinrichtungen GmbH. The furnishings for the workstations, meeting rooms and café area came from Wiesner-Hager.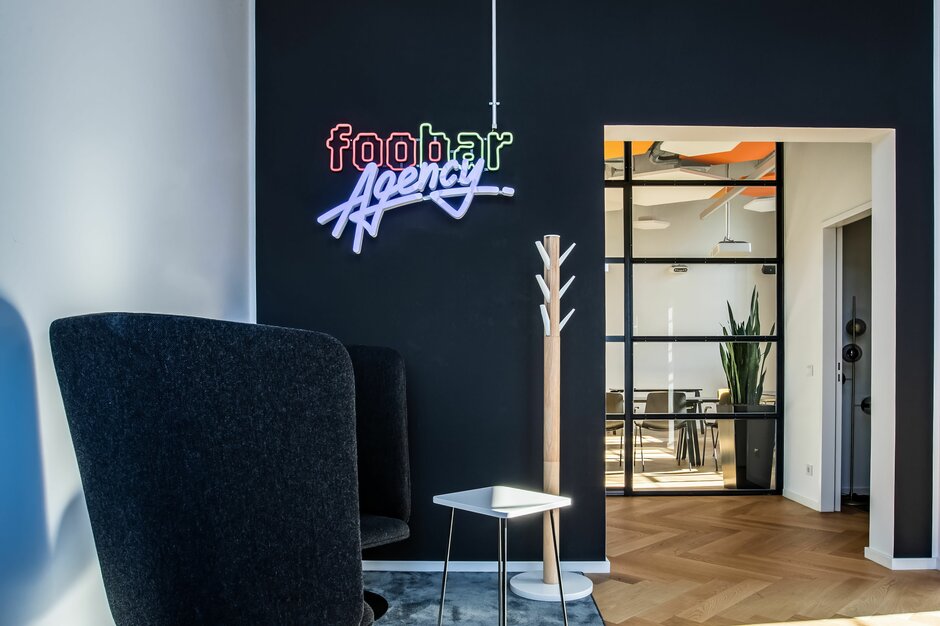 Time for a restart!
The building was originally an old boiler house. After the renovation, foobar occupied several floors and forged a new world of work with a creative interior design and a New Work concept in an industrial style. The entrance area itself, with its colourful LED logo, already illustrates the company's digital focus. The colour scheme runs through every area, and yet each room is a one-off. "All in all, it is a unique space in which the team really feels like being creative and productive and which also acts as a magnet for new talent," says office4you, summarising the overall concept.
All in all, it is a unique space in which the team really feels like being creative and productive.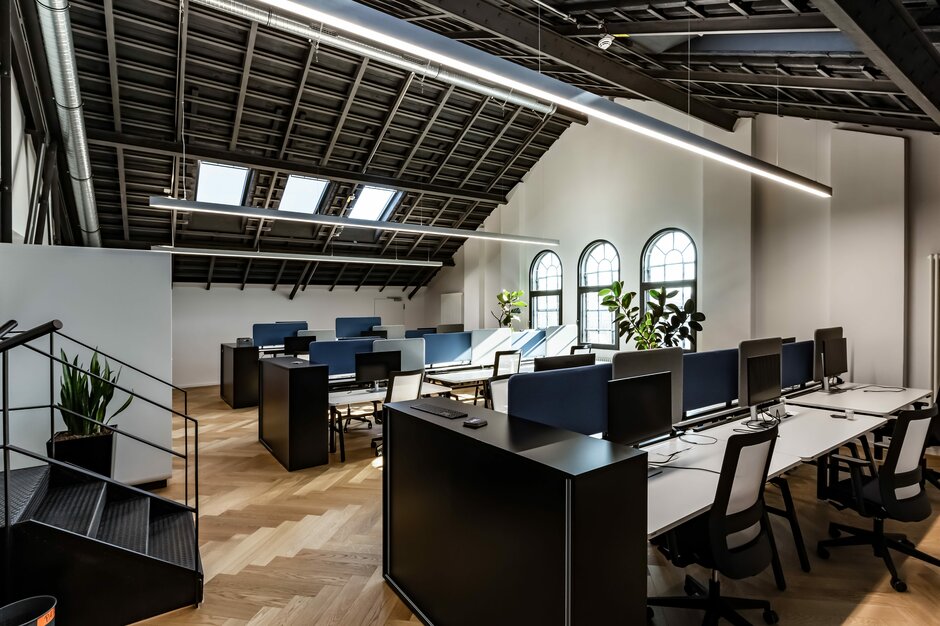 Level up! More than just classic desk work.
The office workstations were arranged as an open space area. Ergonomics are especially important here. All desks are equipped with electric height adjustment, making it easy to switch between sitting and standing. Not only does this promote creative thinking, but it also prevents long-term damage to the musculoskeletal system. The swivel chairs encourage dynamic sitting and are also impressively comfortable. In addition to the classic work areas, the focus is also on creative zones away from the workstation. Smaller middle zones as lounge islands, but also technically well-equipped conference and meeting rooms, allow a change of perspective in everyday work as well as video meetings and hybrid conversations. Between them are phone boxes for working without any disruption and for making phone calls. The kitchen, with seating and standing spaces, is somewhere where staff can come together, but it can also be used as a working café.
Well played! Digital meets biophilic.
Even though the office has much gaming interior, the digital vibe is counterbalanced with biophilic elements. Lavish plant arrangements have been used in the sparser office workstations area. Plant towers and moss images combined with LED strip lights create an exciting symbiosis with the colourful, pixelated elements and provide for a cosier ambience throughout the office.
To sum up, this is a trendy office with an individual design that does not lose sight of the essential requirements of a workplace. At Pac-Man, they would probably say: Good game! You've beaten the high score!