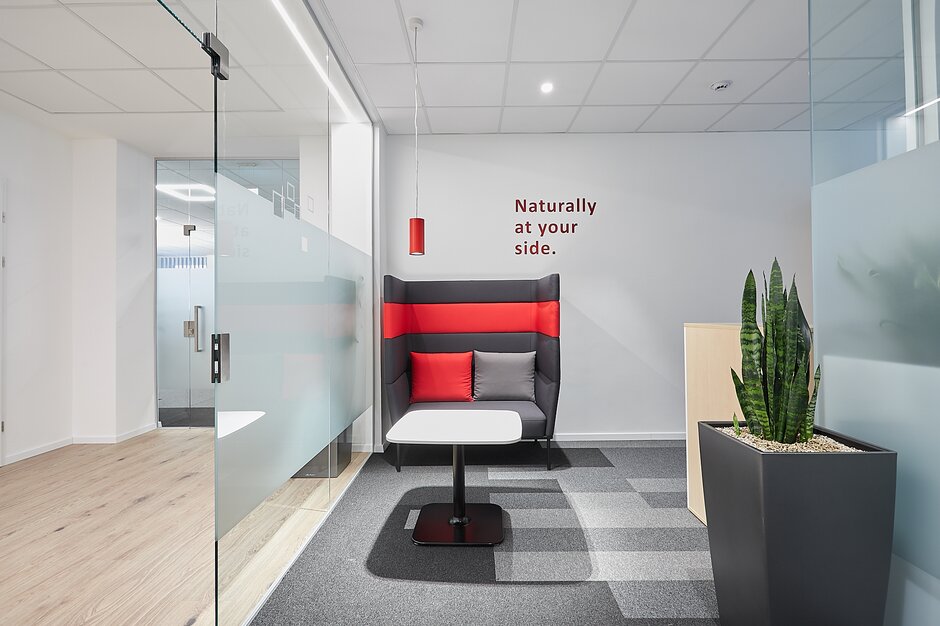 Communicative office landscape with a personal touch.
The new working environment at the cooling system specialist AHT is modern and individual. The company specialises in the manufacture of ready-to-use refrigeration and deep-freeze systems for trade and industry. The AHT company's main building, constructed in 1908, already tells a long story. Over the years, more and more serious damage has occurred to the building, making a complete renovation unavoidable. Remodelling work finally began in December 2019. One year later, the first departments moved into their new working environment. The construction planning was carried out by Metlitcka Consulting, while Essl Design took care of the corporate interior design. Wiesner-Hager was entrusted with the entire furnishing concept.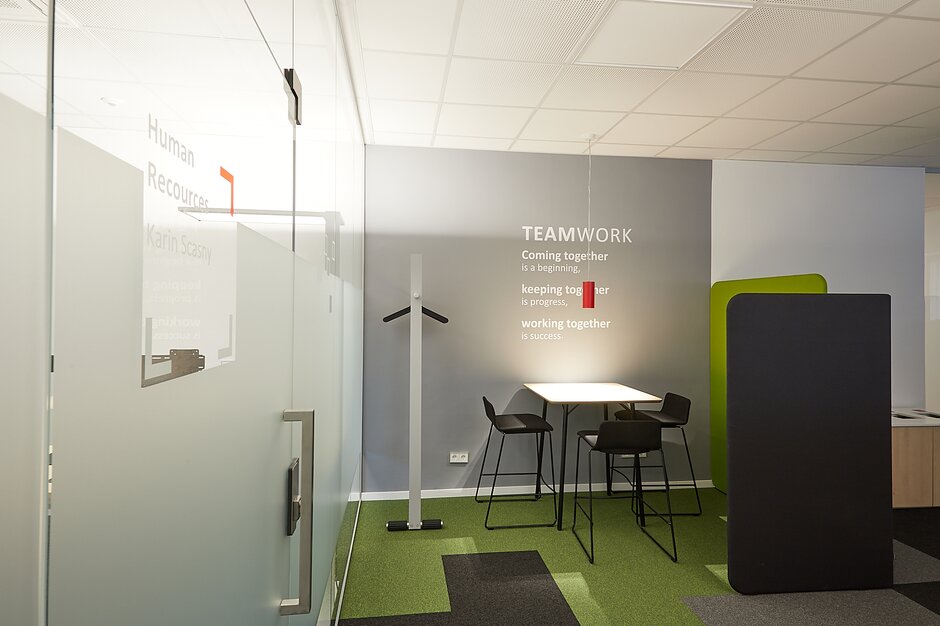 Attention to detail.
An open and communicative office environment was an important goal of the conversion project for AHT. The new main building is characterised first and foremost by its modern appearance. It combines the social and productive aspects of collaboration in an ideal way and seamlessly integrates future requirements such as hybrid working. Trends such as desk sharing or individual meeting options were also essential specifications that were integrated into the office concept. The individual areas were personalised with great attention to detail. Sayings on the walls, colour-coordinated floor design, and one-of-a-kind items like ice cube-shaped light fixtures add character and personality to the space.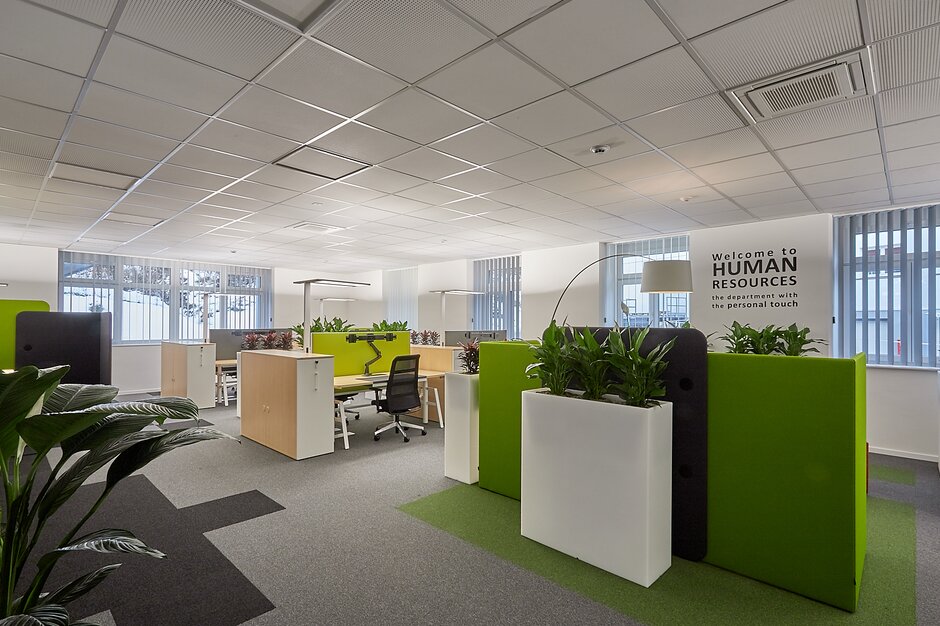 Ergonomics as a must-have.
From the very beginning, it was clear that the ergonomic functionality of the workstations was very important to AHT. Electrical, height-adjustable desks support different positions and ergonomically sophisticated office chairs enable dynamic sitting. A soft zone for meetings with a lounge feeling has been set up in each open office. In addition, there is a central waste bin in all offices and small technology islands, which are intended to encourage conscious movement. For example, the shared printer per floor was deliberately placed near a regeneration area. Preference was also given to the use of plants and natural lighting in the form of daylight lamps, as well as dimmable floor lamps at the workstation.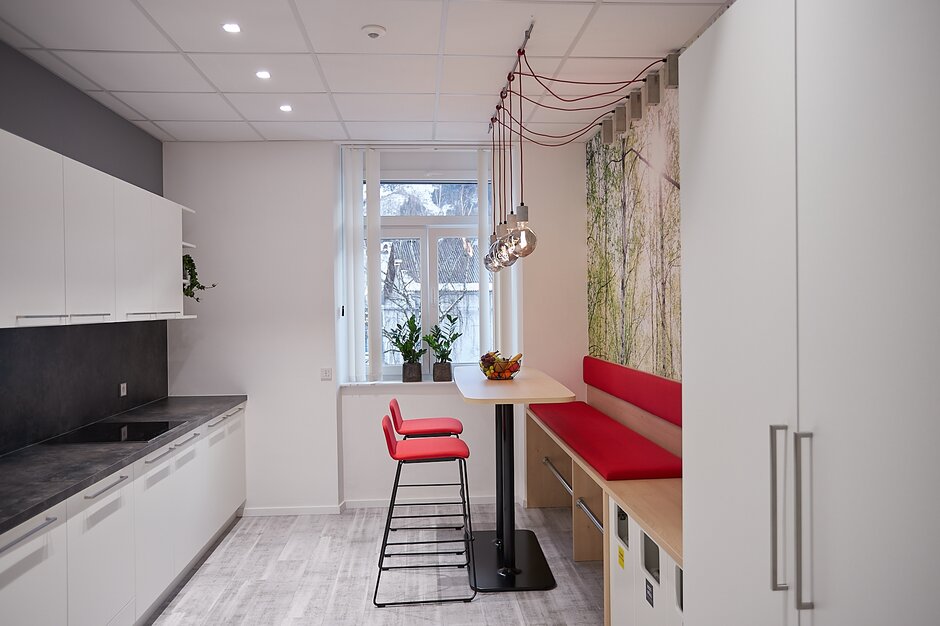 Space zones for New Work.
A coherent, fresh colour concept, also based partly on the corporate design, runs through the entire office building and creates a uniform but at the same time varied flair. Even the entrance area, with bar tables and chairs in the style of a working café, is inviting for short meetings and informal gatherings. From there you can head directly to the kitchen. Where design meets functionality. High benches serve as seating, but are also equipped with integrated waste bins. This system is found in all regeneration areas.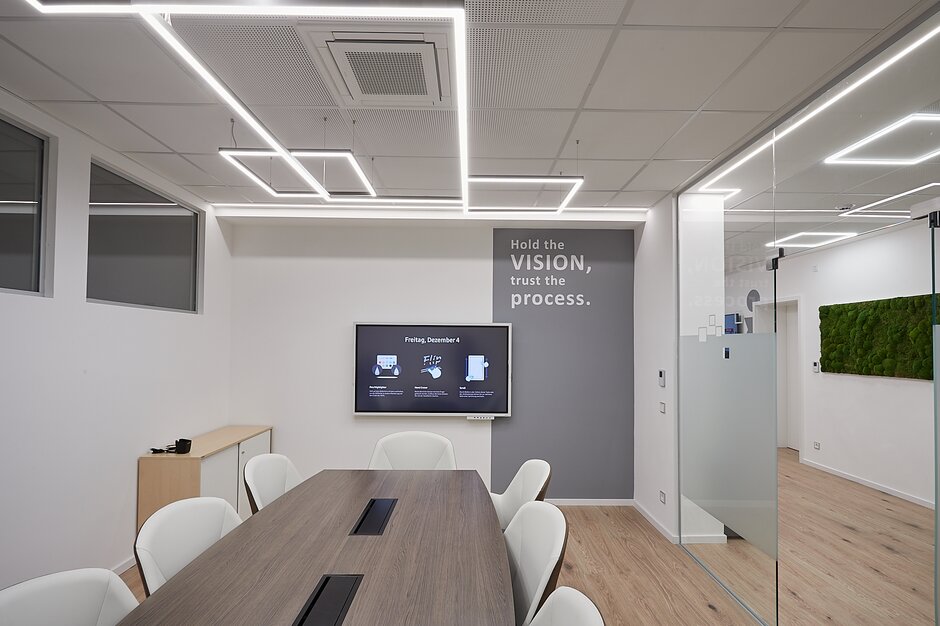 There are four different conference and meeting rooms, named after AHT products, to choose from to suit the needs and situation. They have modern technical equipment and therefore support new working methods such as hybrid meetings or webinars. The offices are open space. A cabinet and locker system is integrated into the space, which is especially suitable for coworking, desk sharing and temporary working in open office spaces. Modern partition elements, which also serve as sound insulation, provide the necessary shielding. Lounge areas between the workplaces are inviting for short meetings and provide alternative zones to counterbalance classic desk work. Large plant troughs support the visual zoning of the work areas and blend into the overall colour concept.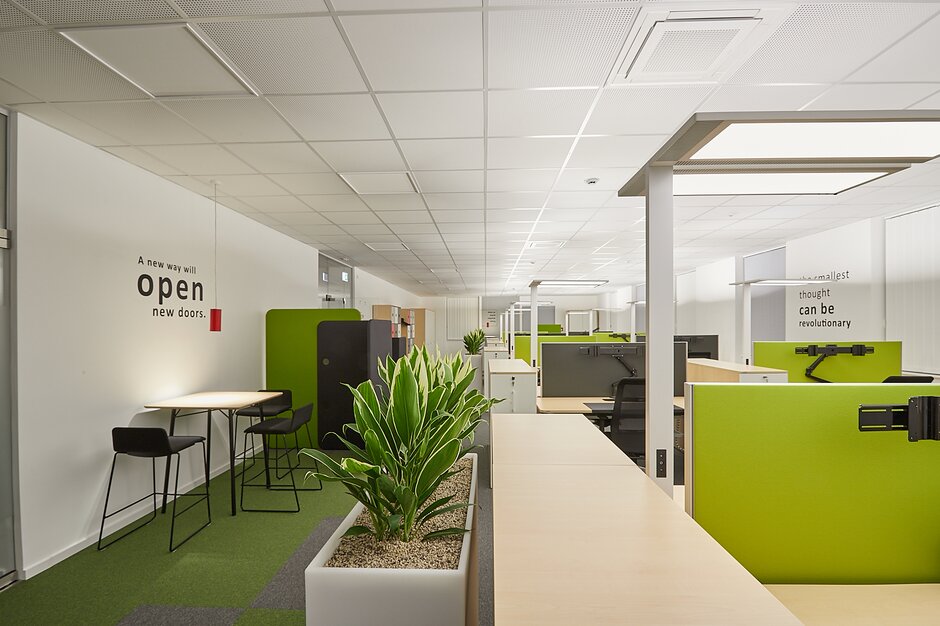 "A new way will open new doors" – We can only agree with this statement from the AHT Office. With the new and personally designed main building, fresh ideas and new possibilities are guaranteed.
More impressions