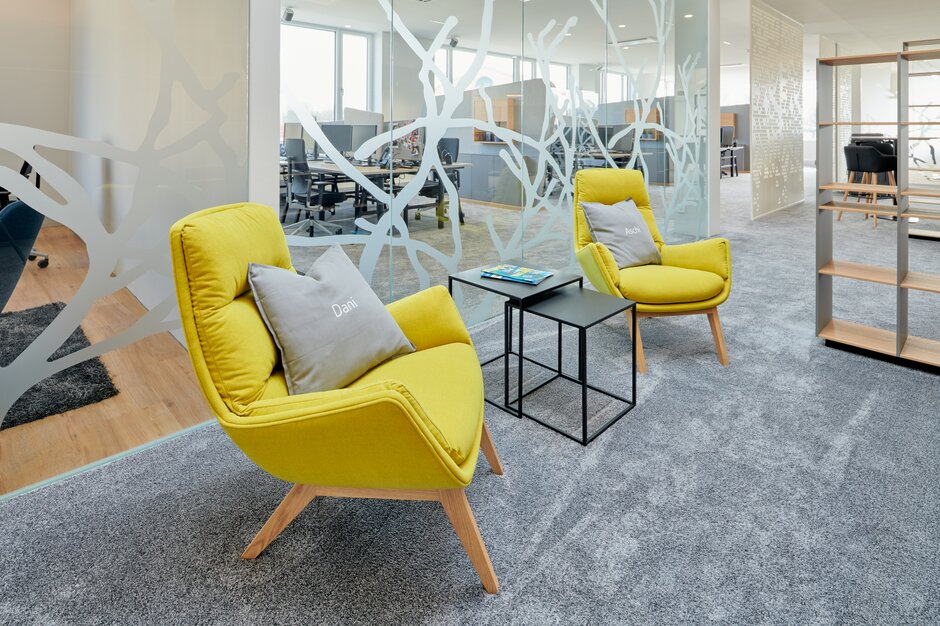 Smart workplace solutions by & for ACP TEKAEF
At first glance, an office furniture manufacturer and a company for print and digitalisation solutions do not seem to have much in common. But the truth is that Wiesner-Hager and ACP TEKAEF not only have their roots in the same region, but also share the same mission: modern and flexible workplace design. No wonder that ACP TEKAEF chose interior design and office furniture from Wiesner-Hager for their new company head office.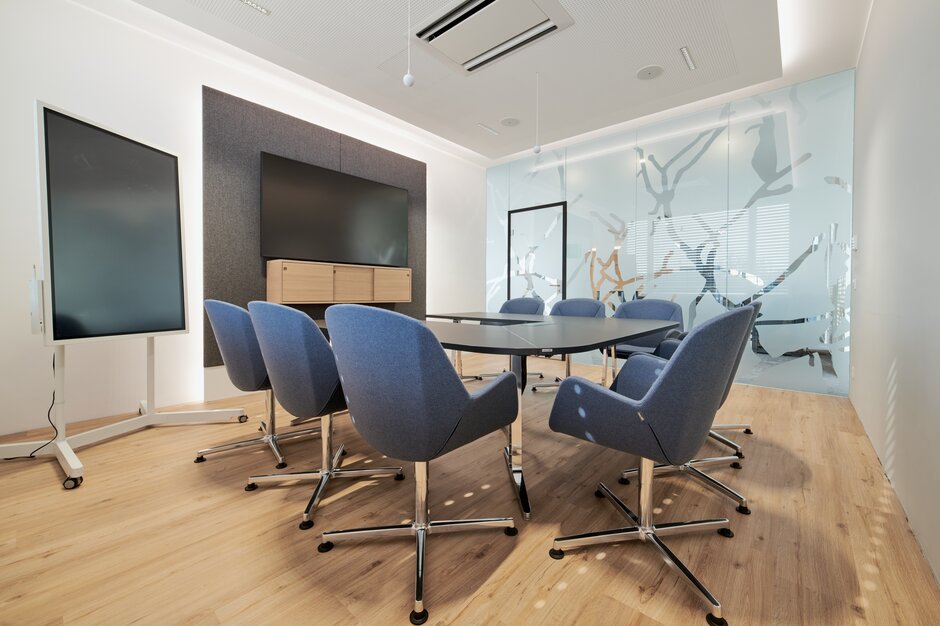 Turning old into new.
The company founded in 1994 has grown strongly in recent years. The company was therefore looking for a new location that could meet the demand for a New Work working environment. A former factory building in Hohenzell proved to be the perfect place for this. While the three existing warehouses were adapted for the company's own purposes, it was decided to demolish the old office building. The new administration building was to be built here. The office building was designed for 100 employees to enable further growth.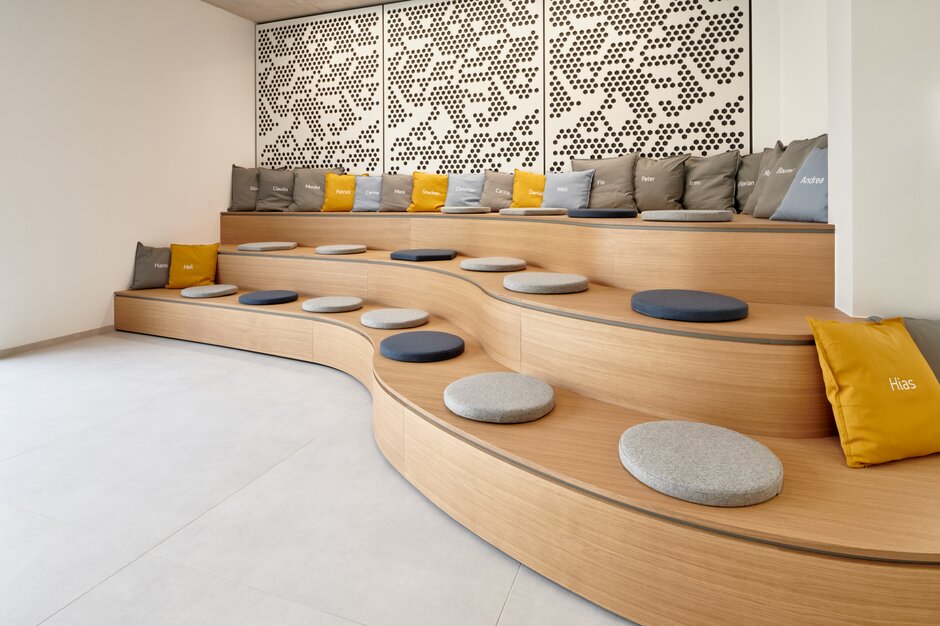 The spacious reception area is impressive, as it has been extended by an auditorium with a striking staircase. In the style of a university campus, it functions as a meeting area for employees and guests and offers space for events. There are conference and meeting rooms as well as individually designed working cafés, a canteen area, a spacious terrace and of course workstations over three floors. These were equipped with ergonomic, electric height-adjustable desks. In between, niche areas were created on all three floors for collaboration and short meetings – supported by high tables, seating groups and lounge furniture. These were designed as working cafés with integrated small libraries, which allow for both concentrated work and confidential meetings. Cleverly used bookshelves and laser-cut solid surface walls act as room dividers.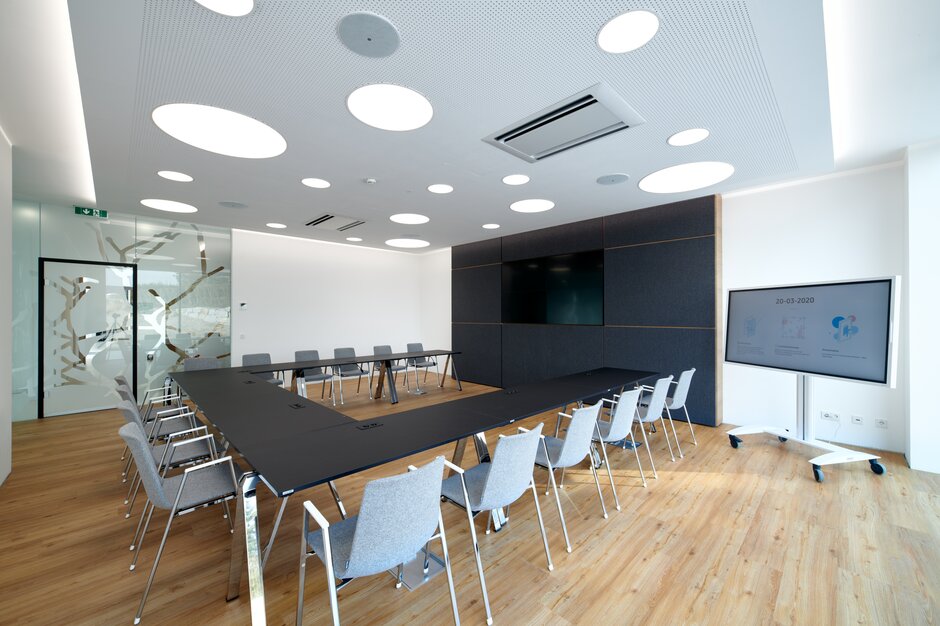 A multifunctional room is available on the ground floor for larger meetings and seminars. Thanks to the flexible and mobile furnishing, it is no problem to react quickly and spontaneously to different usage requirements. A "Creative Room" and some smaller meeting rooms supplement the need for communication. They have been deliberately kept small to allow for more effective team meetings.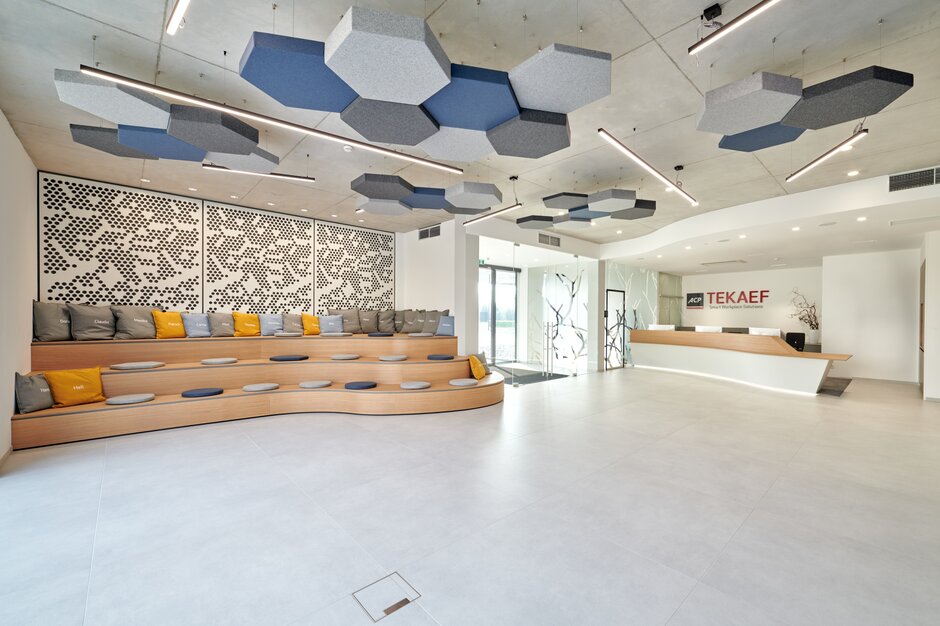 Interplay between hard and soft.
The high standards that ACP TEKAEF set for the new location's design can be seen as soon as you enter the building. Hard and soft materials have been coordinated to create a pleasant lightness and a feel-good atmosphere. Exposed concrete and hard, wipeable surfaces alternate with soft textiles and warm wood tones. The deliberate use of natural colours and organic forms is a style that runs through all rooms. The ceiling suspensions in the form of the company's logo element ensure pleasant acoustics in the auditorium. This honeycomb shape appears repeatedly in the room concepts. In addition to the honeycomb-shaped elements and the angular columns, the designers used curves, which were incorporated, for example, into the shape of the auditorium's seat staircase. This design language is encountered once again in the shelving systems and in the textile-covered room dividers between the workstations.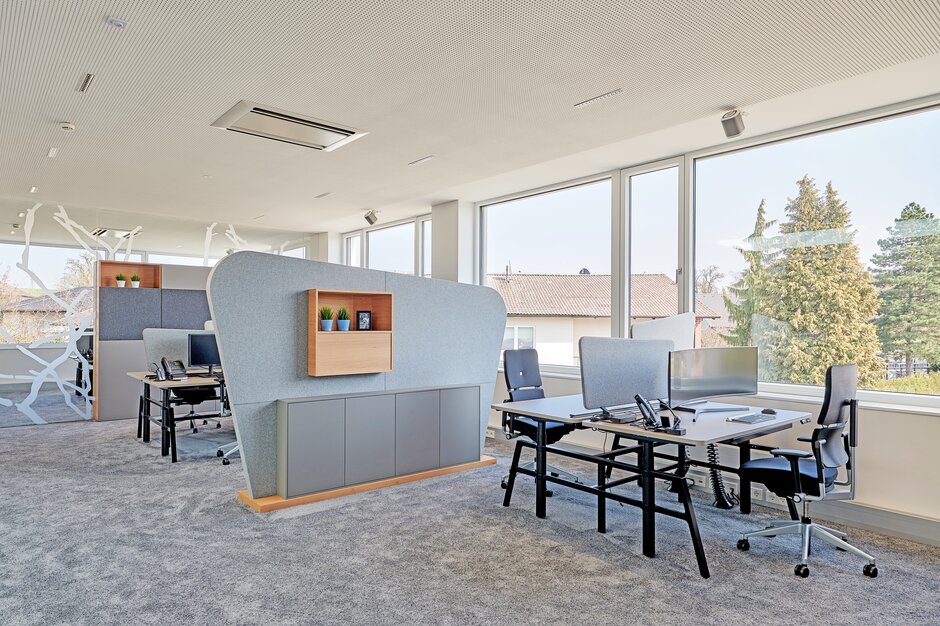 "Bright" new building for the employees.
Teamwork and employee satisfaction are very important at ACP TEKAEF. "Our team has made our business success possible. That is why we are building the new head office for our employees", said Managing Director Christian Heit at the ground-breaking ceremony. It's no wonder then that the workforce was happy to volunteer to help with the company's relocation, thus ensuring a smooth and speedy process in February 2020. The planning process and construction phase took a total of two years. Despite the open spatial structures, each area has fixed workstations with the necessary task-related additions. To ensure that this zoning does not counter the open space concept, transparent glass cubes and lightweight solid surface partition walls were used. The lighting concept with a skylight and an impressive rooftop terrace with large glass fronts creates a natural ambience flooded with daylight throughout the building.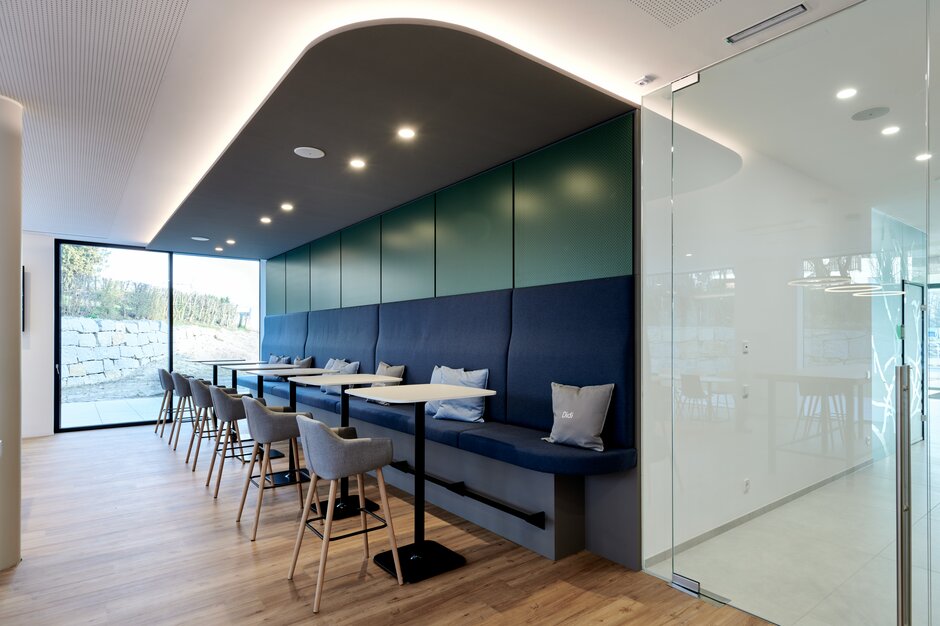 ACP TEKAEF paid particular attention to the regeneration and canteen area. GENUSSwerk prepares fresh meals for the employees in the open kitchen every day. Thanks to the pleasant homely atmosphere, the canteen is also used as a working café, where employees can meet customers outside lunchtime.
More Impressions