New Work is actually an abstract concept – unless you bring it to life: that is exactly what Wiesner-Hager has done in the new Salzburg sales office together with the consulting firm PINUS.TEAM.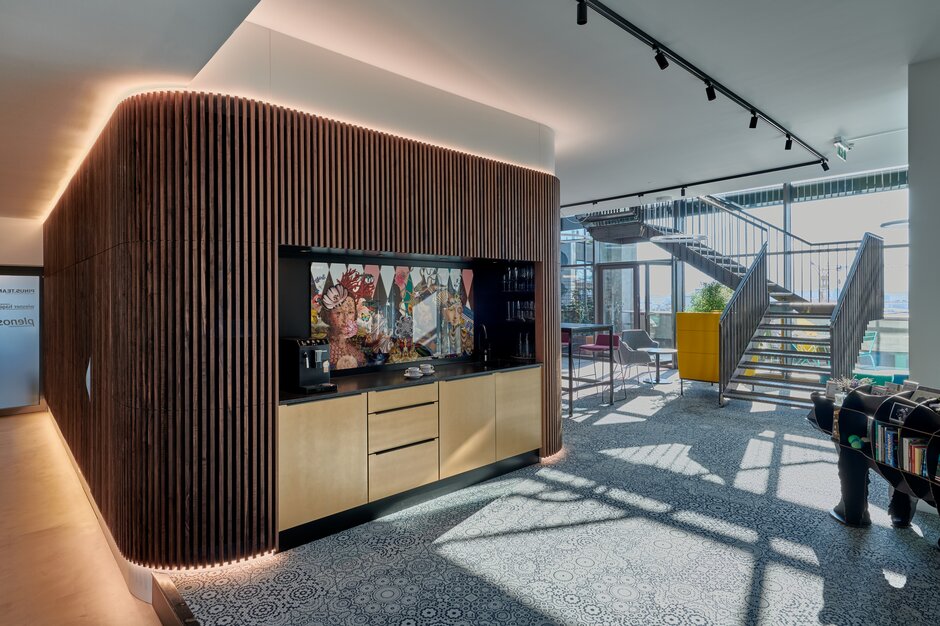 Living and breathing the New Work environment.
From the very beginning of the deliberations, it was clear that this was not a classic showroom, but that a completely new "shared office" concept was to be developed. This fits perfectly with the location on the grounds of the Panzerhalle Salzburg, a hotspot on Salzburg's creative scene, as well as with the company's positioning, in which creativity and a concept-driven approach play a key role. Roomware Consulting was responsible for the interior design. The office was designed as a shared office, in which several companies share office and communication space in partnership. An intelligent zoning concept ensures that the companies' workplaces are clearly assigned and that privacy is maintained. The site has even been given its own name: "bluebird.space" is intended to symbolise its significance as a place for networking and coworking and a completely novel New Work philosophy.
Shared office as a model for the future.
Originally conceived as a coworking concept for freelancers and start-ups, more and more established companies are now making use of shared office space. Even without direct cooperation between the companies involved, a community is created here which people and companies benefit from in several ways. Temporary project teams find retreats for collaboration and the mutual exchange of ideas in the shared office. The communication rooms are therefore offered to external companies for meetings and workshops at bluebird.space too. "In future, practised collaboration and self-determination will have even greater significance in organisations, which will be crucial for employer attractiveness," emphasises Helene Stainer from PINUS.TEAM.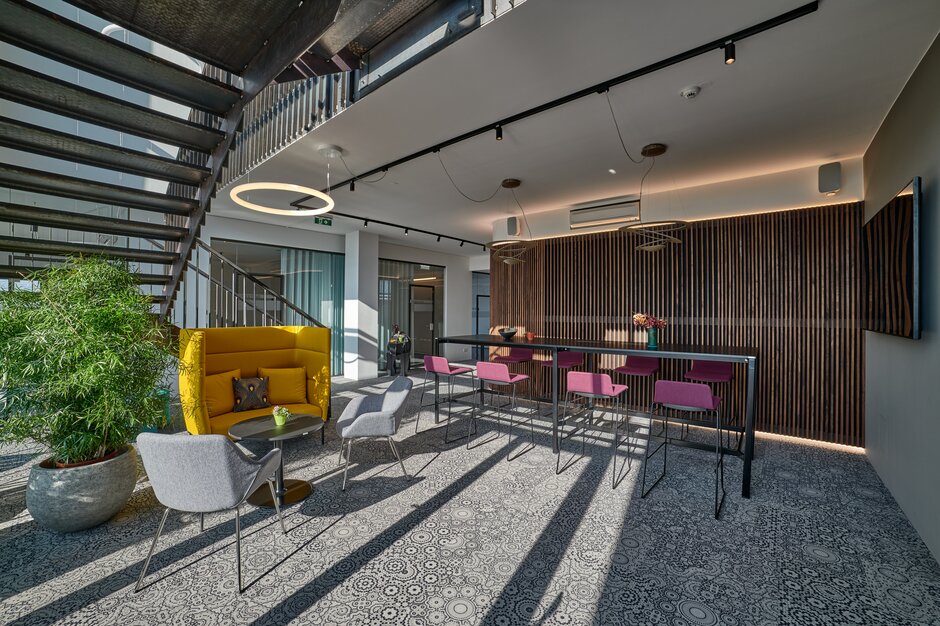 Creative scope.
Industrial style or living room, lounge or working café, creative landscape or urban marketplace – shared offices offer great creative scope. "Depending on the task and situation, coworking spaces are ideal for creating a huge variety of work environments. These can provide a supportive ambience. It is precisely this concept that has been implemented in Salzburg's bluebird.space," explains Magdalena Baum, project manager at Roomware Consulting. The reception area is organised as a working café with a large kitchen and bar tables as a place for informal communication, networking and relationship building. Mobile workers immediately get a sense of belonging at the working café. Seating groups of upholstered and lounge furniture with a view of the terrace invite you to recharge your batteries and creative inspiration.
With bluebird.space, we are taking a completely new approach to office design. In this respect, this project is ideal as a role model for future office space planning.

The project and conference rooms ensure undisturbed meetings and teamwork. All glass surfaces are covered with privacy screen. Video conferencing tools and large screens enable virtual participants to be seamlessly integrated into hybrid meetings. Acoustically effective curtains and ceilings provide a pleasant environment for conversations in a quiet atmosphere. Focus and creative rooms are available for those who wish to retreat for quiet, concentrated focused. Standing desks encourage movement and interaction here and offer an ergonomic balance to the static seated way of working.
Workshops, creative meetings and training sessions can be held in spacious collaboration rooms. Here too, furniture at standing height encourages flowing and almost unconscious movement. The interior plays with colours and materials, which inspire creativity and ideas, but also support critical thinking. Numerous visualisation elements, such as whiteboards, flip charts or pin boards, provide assistance in collecting thoughts and suggestions.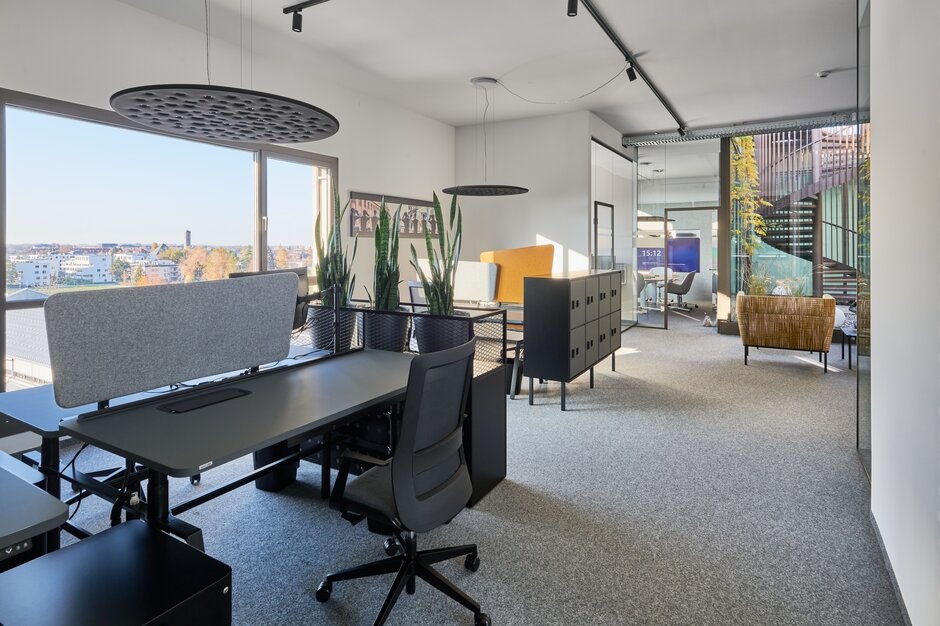 Generous and modern use of space.
The office follows a generous single-space concept. The area of about 600 square metres is divided among 30 employees at most. There is not an open office, just open units, i.e. team spaces for four to eight employees. Particular attention was paid to good room acoustics, the efficient and flexible use of space, and state-of-the-art technology.Helene Stainer concludes: "The project was implemented in 2020 under exceptional conditions. The obstacles never jeopardised the successful teamwork though, and the much-praised result has become even more attractive to employees and customers than conceived in the original plan."
Are you interested in bluebird.space and want to get to know the New Work environment better? Then contact us at salzburg@wiesner-hager.com. We look forward to seeing you!
More impressions